Why choose Taskbox?
25+ Epic benefits to
deliver a better workday
Our mission is to provide the optimum work process for our community to deliver an effective workday.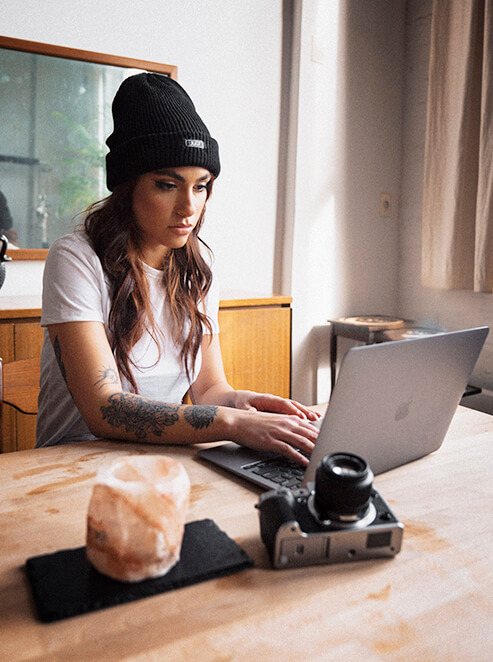 Game-changing results
out of the box
Taskbox provides an easy-to-follow process out of the box, proven to deliver results within your first 24 hours.
Reduce costs
Ditch unnecessary travel, admin and conversations to reduce costs by up to 22%.
Save time
Stop searching for information and remove unnecessary admin to save up to a day a week.
Improve quality
Follow a simple process designed to ensure everything gets done on time.
Hyper organised in minutes
Taskbox is capable of mirroring your business management system or giving the structure you need to get hyper-organised in minutes.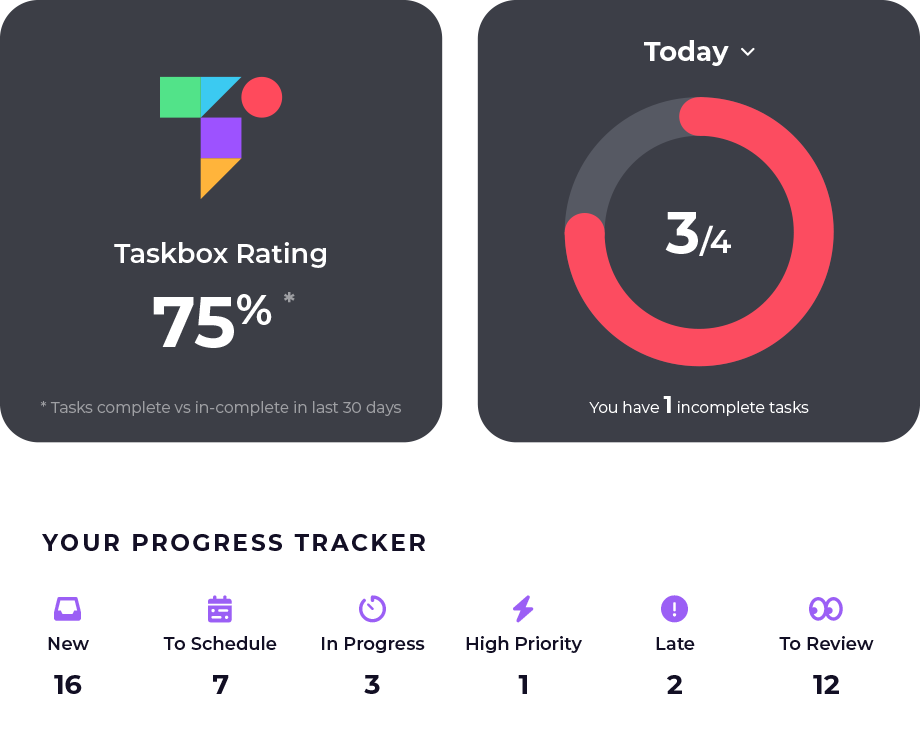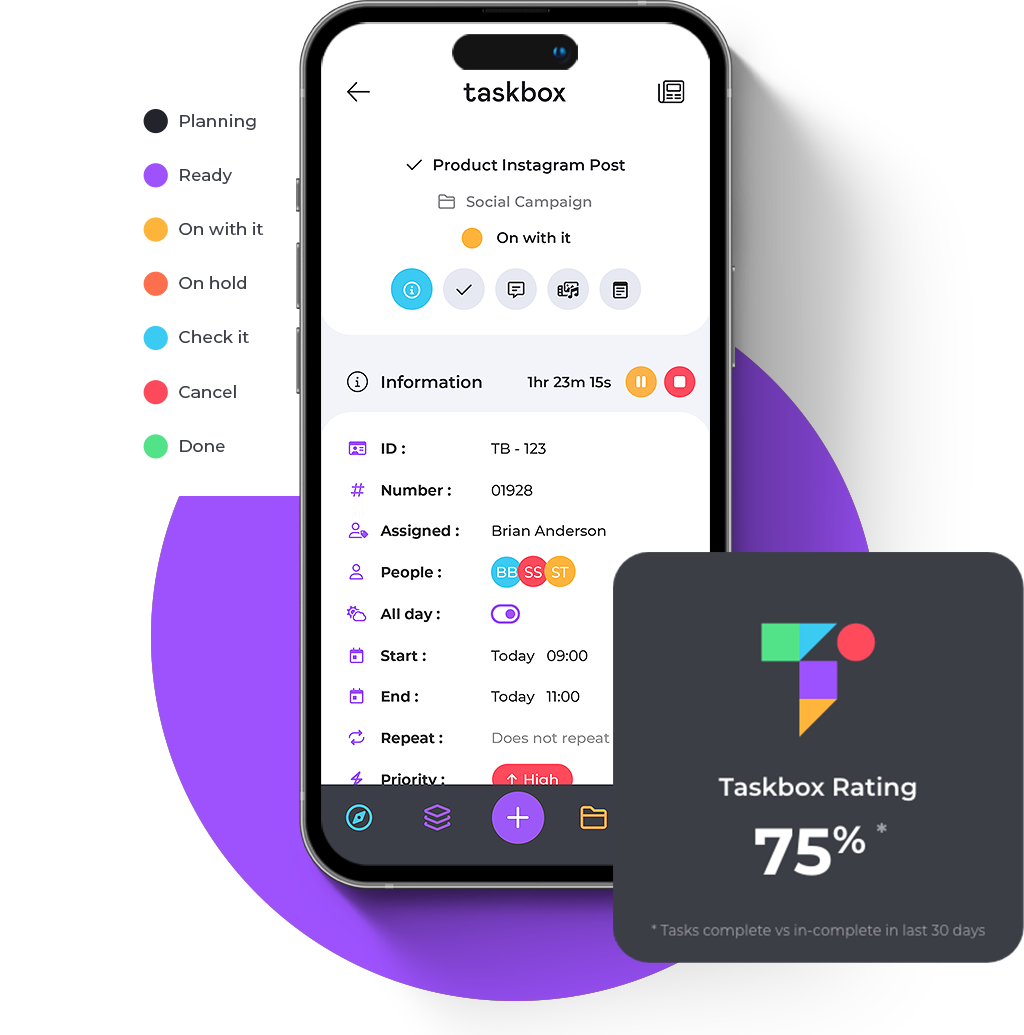 Work done faster than ever before
Begin your day knowing what needs doing and start checking items off.
Plan anything
Get all your work ready to go in just a few clicks.
Work anywhere
Access your work from anywhere in the world.
Complete everything
No more overlooking work. Get everything done on time.
Instantly share work with anyone.
Click to add the people you want to share work with, and Taskbox will update and notify people.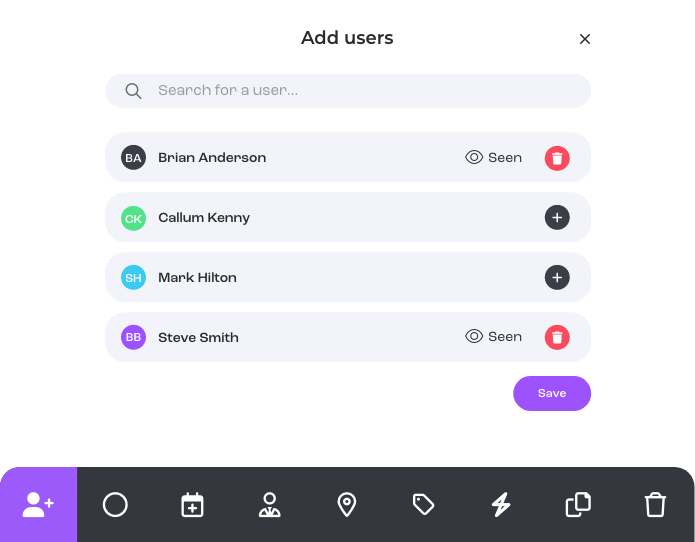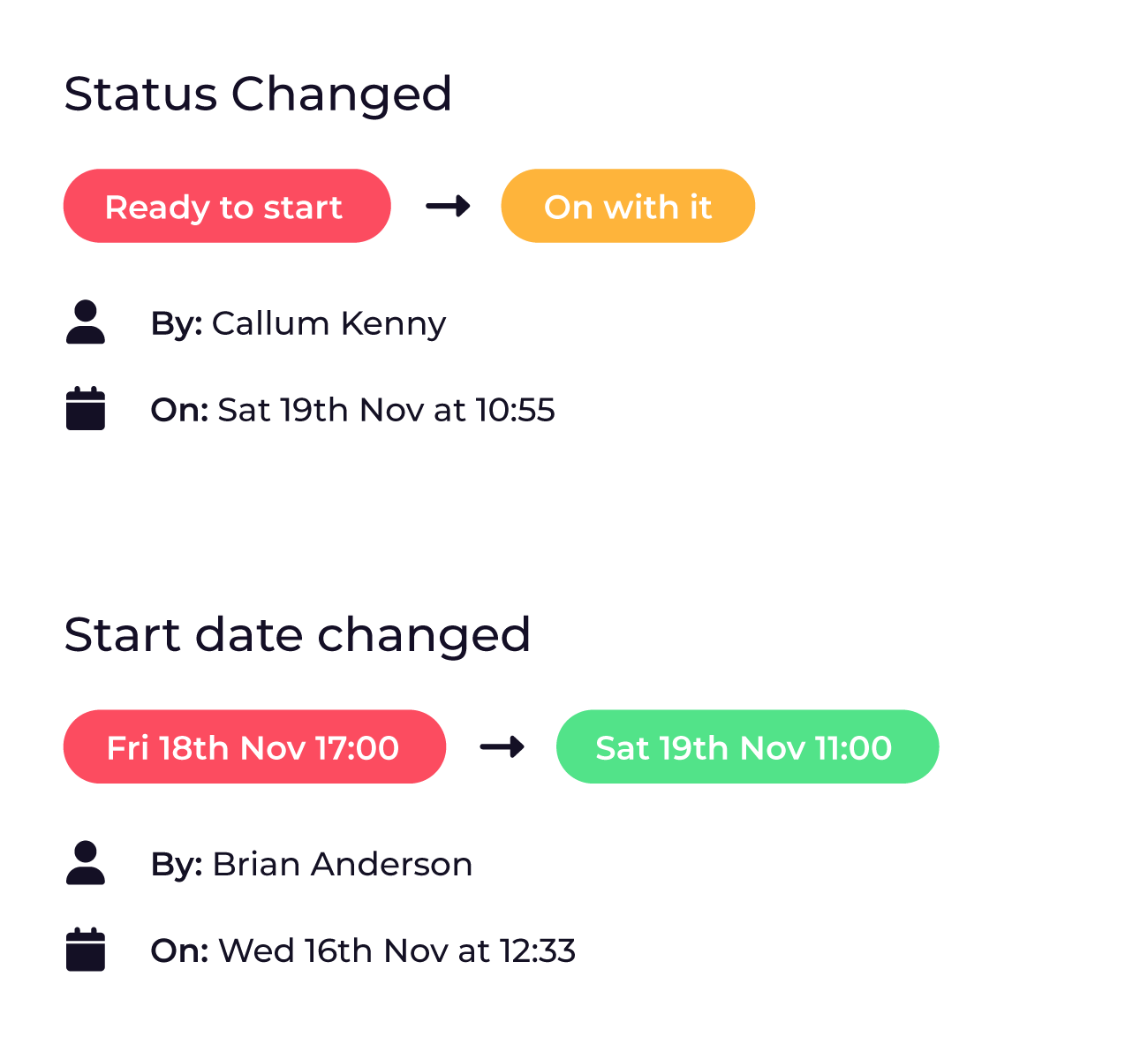 100% accountability for the entire team
Share work with anyone and get instant access to audit logging. Know when users see work, who does what and more.
Happier teams
Manage expectations for a relaxed way of working.
Reduce stress
Keep stress levels low by updating people about the latest schedule.
More productive
Clear action lists of tasks remove wasted admin meetings.
Confidence in a reliable process
Results are easier to achieve when everyone knows the process. Taskbox has an easy-to-manage method you can track at any point for faster results.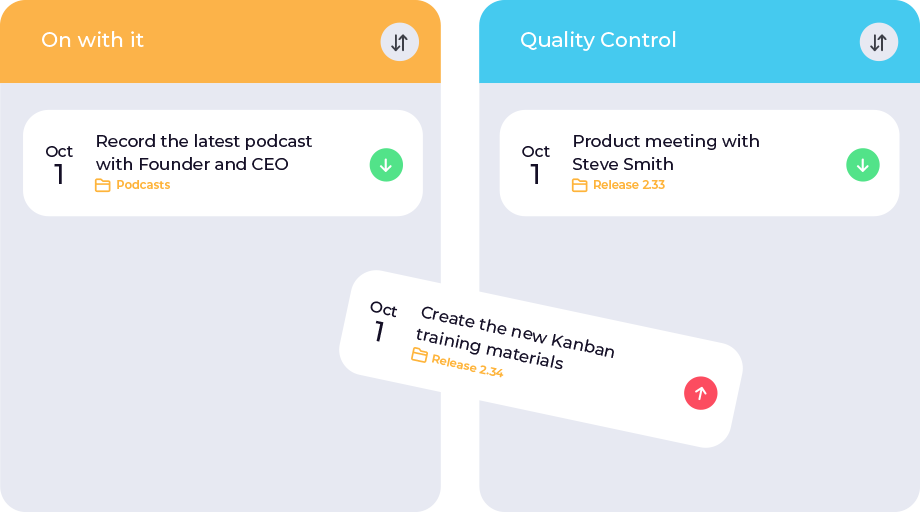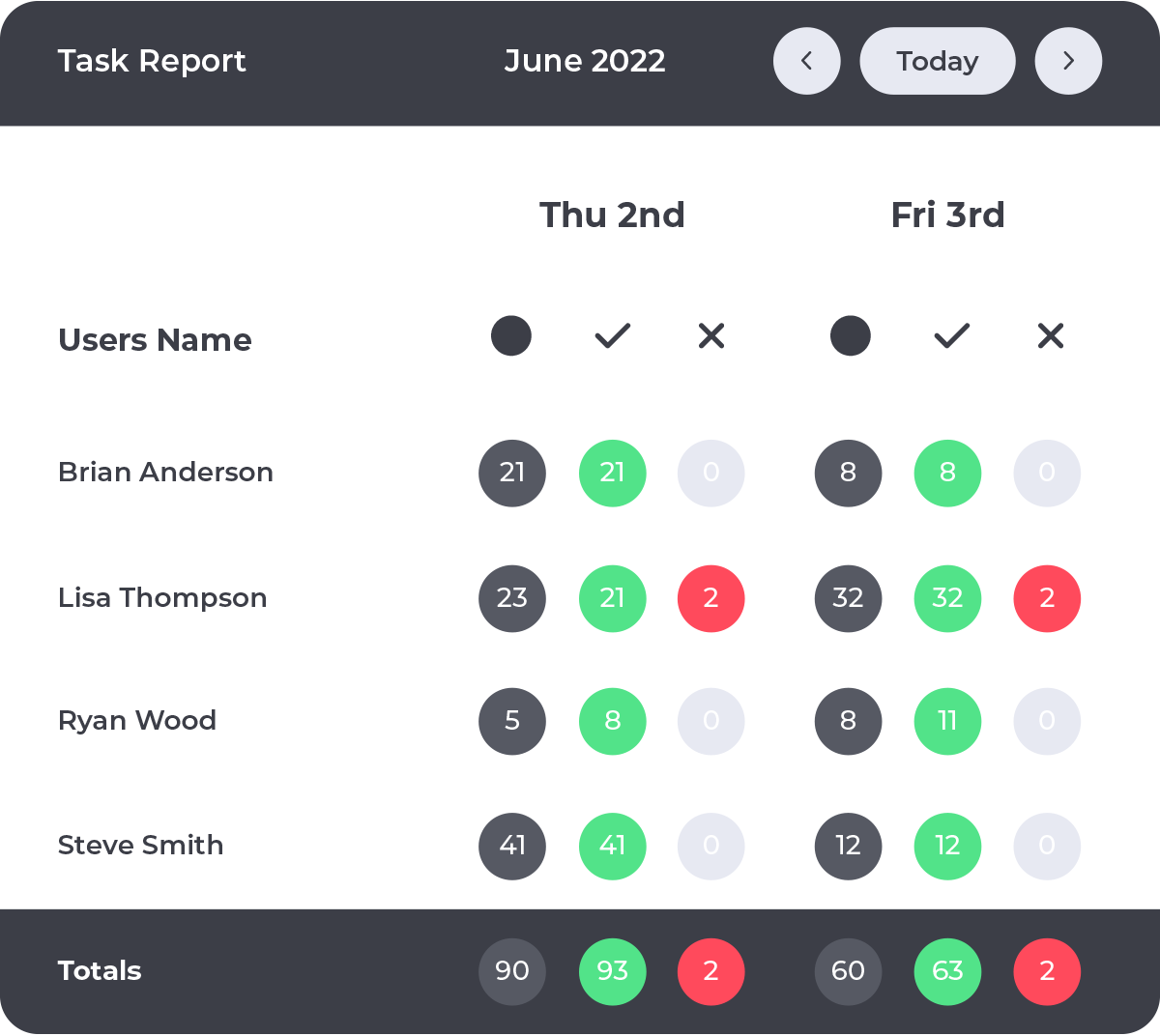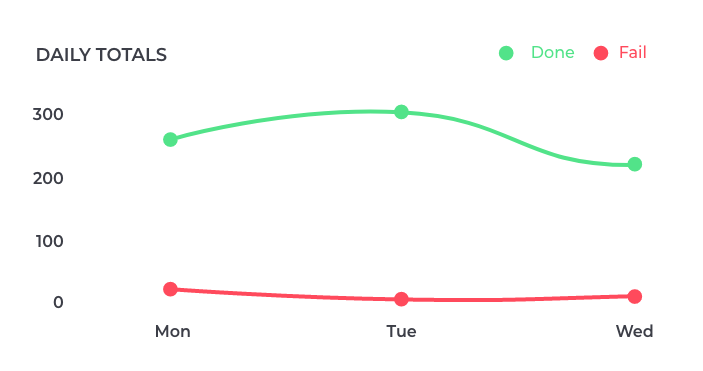 Instant insights to make better decisions
Follow planned work, complete tasks and remaining tasks in real-time, along with business development insights to better plan for the future.
Accountable
Make everyone accountable for their work with real-time updates.
Reach goals
Visually track all your goals as they move towards success.
Faster results
Give teams the ability to see their schedule to hit goals faster.
Don't ever miss a thing!
Keep track of everything
Taskbox delivers the ability to see and track everything in one place. No more excuses or lost information. Everything and everyone is accountable for everything that happens.
Choose your membership
Select a plan from below to get started. Set-up only takes a few minutes.
Find out more
1 User
Up to 100mb of storage
Self-help support
Get Started
Lite
- Save 35%*
£7 £4.50
/pm
Up to 10 users
Custom dashboards
9 to 5 UK support
Try for free
Unlimited users
Unlimited data
24/7 support
Try for free