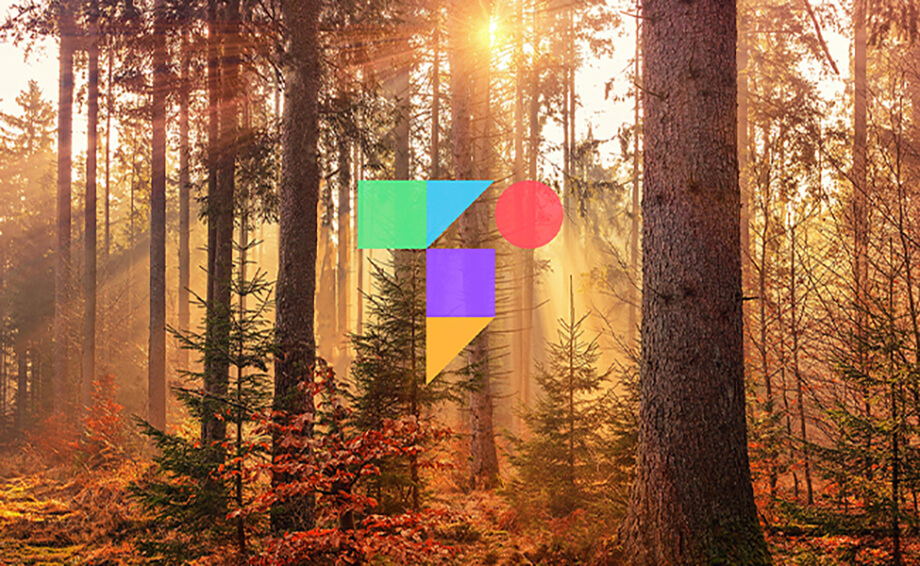 This is our biggest update since the beginning of Taskbox. It's so much more than just a few new features. These updates complete the initial vision of Taskbox. One place to easily create, organise, complete and report all your work. Taskbox is becoming the easiest way to bring your teams together and get more done.
Let's take a look at the latest updates:
NEW - Repeat tasks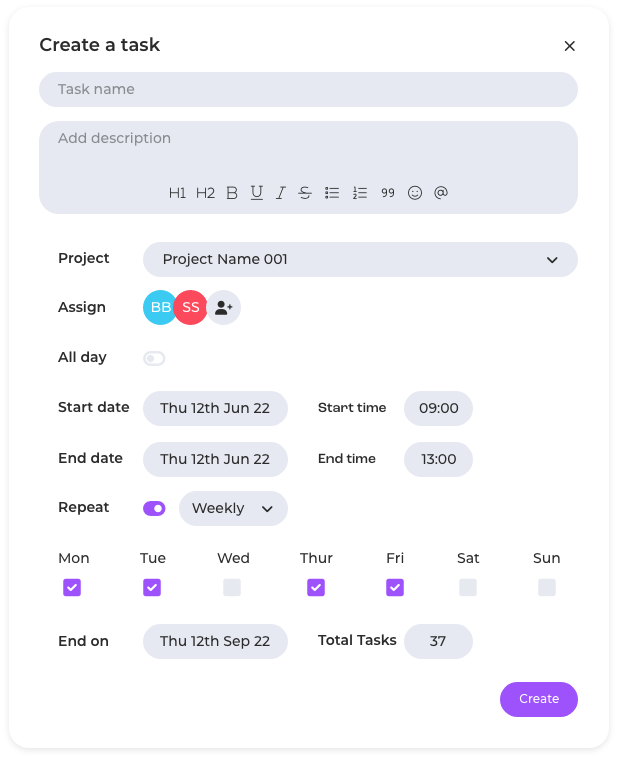 Do you have routine things you need to get done? They can be daily, weekly, monthly or yearly. If you do, then we have an exciting new feature for you.
You can now create repeat tasks like never before. Go t create a task in task list view, project profiles, kanban, calendar or maps to see the routine fields.
Specify how often you want the task to repeat and when the routine ends. Once you create, you will get updates when they need to be completed.
NEW - Taskbox rating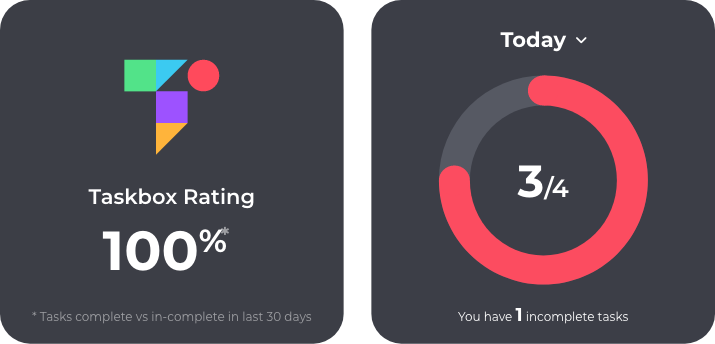 Ever wondered how well you are doing with the work you complete? You can now track your progress daily, weekly, monthly or quarterly.
See the total number of tasks you must complete and how many you have completed. The percentage will then show you how you are performing.
NEW - Dashboard calendar widget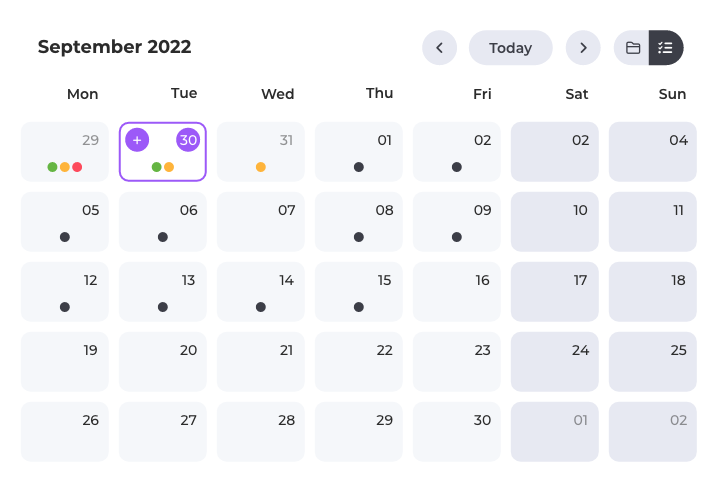 You can now get a day-by-day breakdown of all projects and tasks from your dashboard. The days with which tasks are planned will show in grey. Hover over the top to see how many, and click to see them.
If you have completed tasks each day, green dots will show. Days with Tasks in progress will show in yellow, and days, where tasks are missed, will show in red.
Toggle between Projects and Tasks to see how each is looking daily.
NEW - Dashboard productivity widget

This new widget is the fastest way to track your task progress. See each stage within your process in one quick totals-based widget covering all bases.
New

- Tasks assigned to you by others

To schedule

- Tasks you need to schedule to be completed

In-progress

- Tasks you are on with

High priority

- Tasks logged as being high priority

Late

- Tasks that are scheduled and have been missed

To Review

- Tasks you need to check over before completing
NEW - Daily schedule widget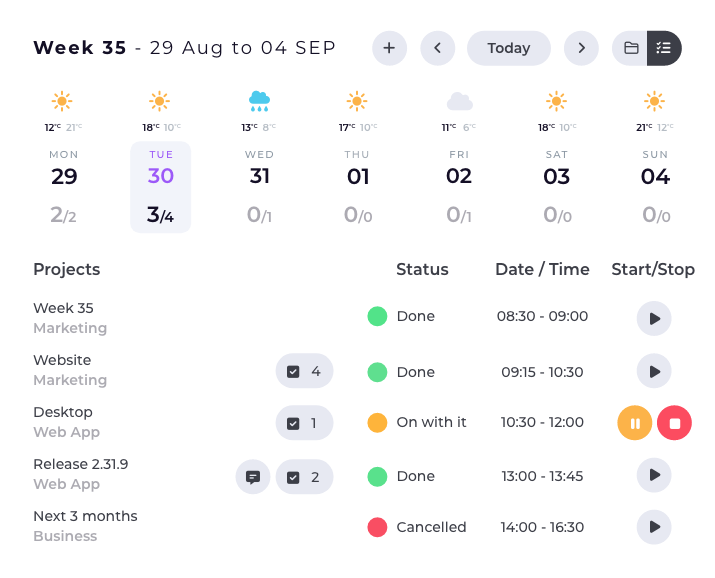 See a quick breakdown of your working week on a day-by-day basis. See an overview of the projects and tasks you need complete, along with weather, temperature and more.
Click on your work to get started.
NEW - Multi-selecting of tasks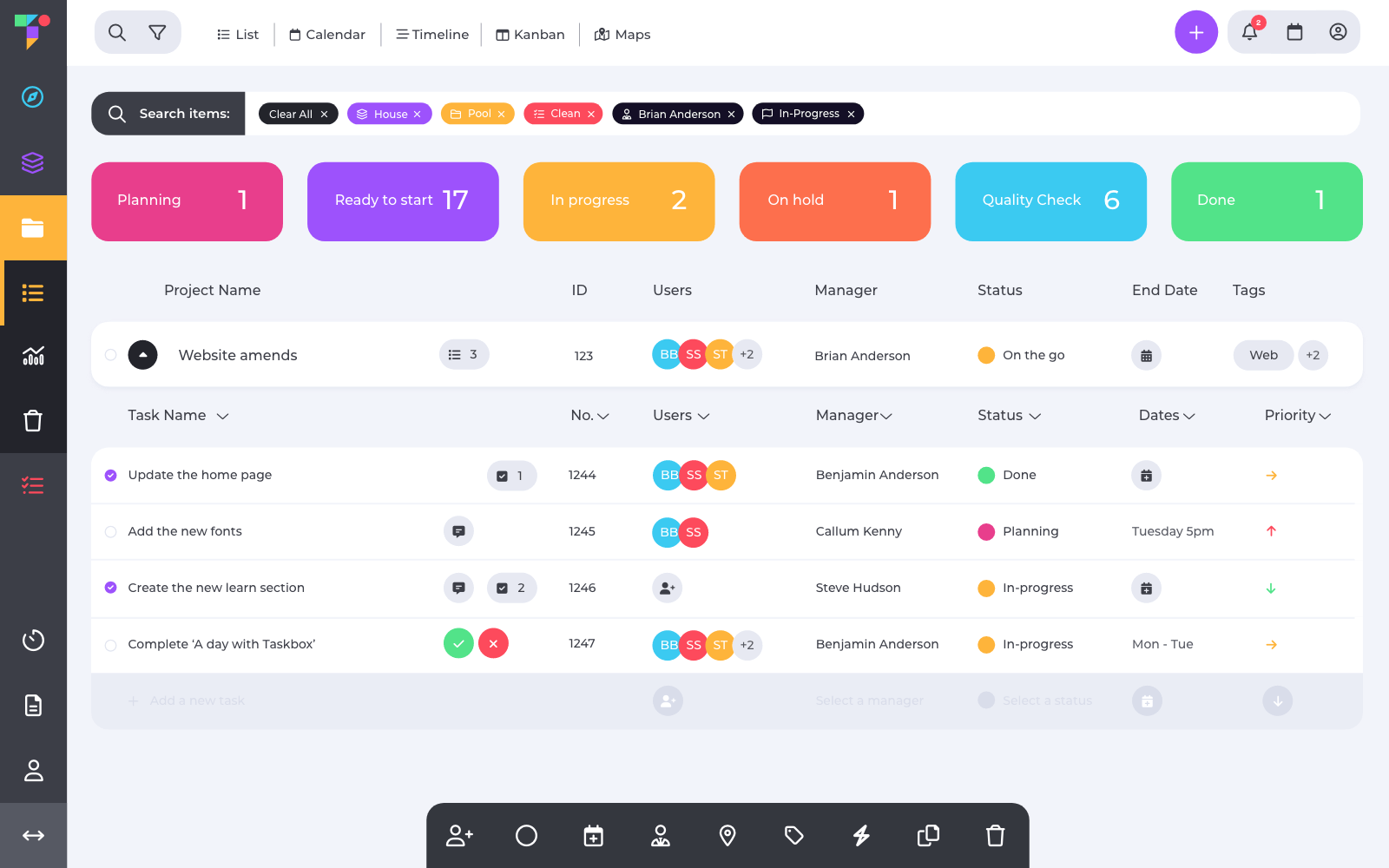 You can now manage groups of work in one go. Select multiple tasks you need to edit, and a toolbar appears at the bottom of your screen. In this toolbar, you can:
Assign new people
Change the status
Edit or add dates
Change the manager
Assign a location
Add a task type
Change the priority of tasks
Duplicate tasks
Delete tasks
NEW - Project profiles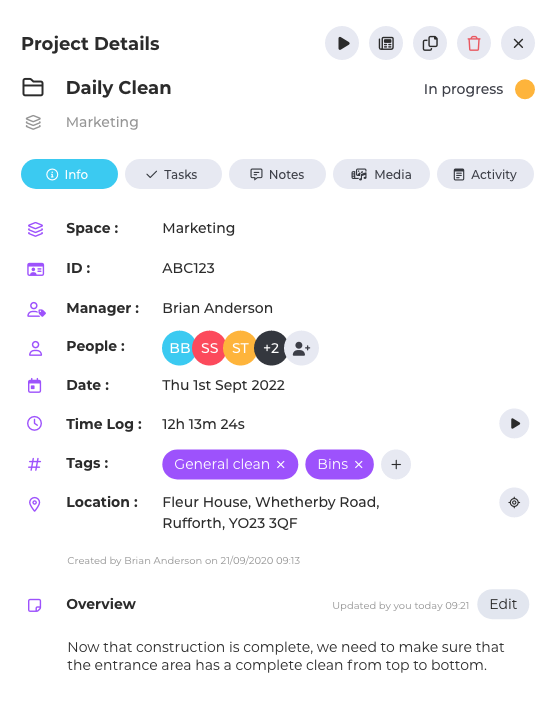 Project profiles have been re-designed to provide a cleaner working profile. Fewer tabs to navigate around, a clearer view of the details for Projects to be completed. New fields in the Project profiles to add more details and a new, much easier way of sharing Projects.
NEW - Task profiles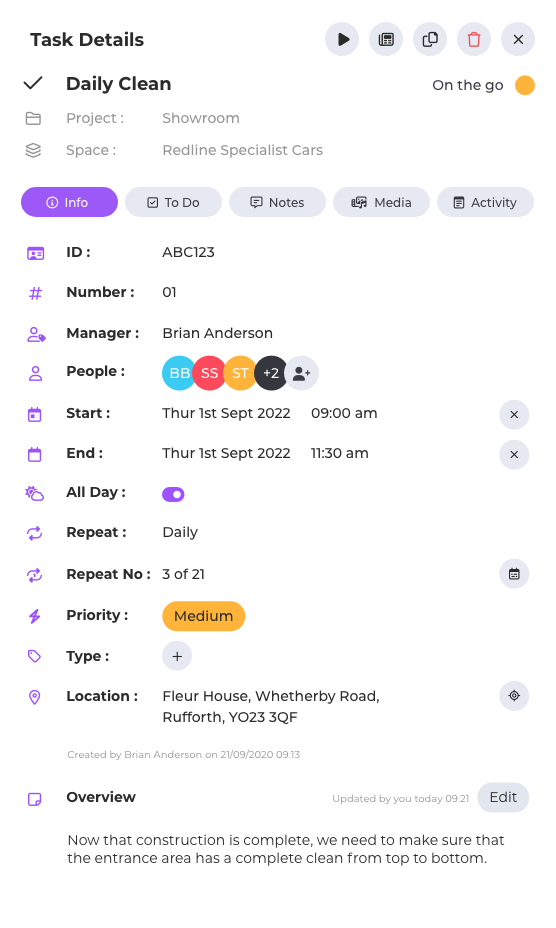 Task profiles have been re-designed to provide a cleaner working profile. Fewer tabs to navigate around, a clearer view of the details for Tasks to be completed. New fields in the Task profiles to add more details and a new, much easier way of sharing Tasks.
NEW - Task hours
Estimate the number of hours a task will take to complete. When you begin work, click the play button, or log a timesheet once complete. As soon as this is done, you will see how many hours are completed for Tasks and Projects.
NEW - Mobile dashboard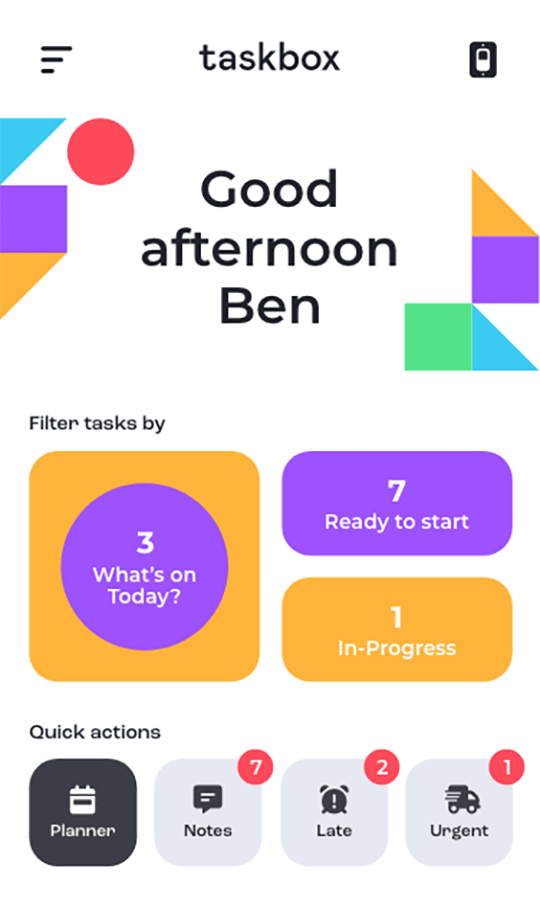 Get quick access to the work you to complete on mobile. Simple totals in your dashboard allow you to see the tasks you need to complete in just a few clicks.
NEW - Search
We have now combined the simple and advanced search to allow quick and easy searching no matter what you're looking for.
Simply, click on the search, start typing, and you can find what you need.
NEW - Search bar results
Follow the items how to have in your search with the new search results bar. When you complete a search or add filters, you can now see the search results you are working with. Simply click on the filters you no longer need when you're finished with them, or clear them all simultaneously.
UPDATED - Report for Spaces, Projects and Tasks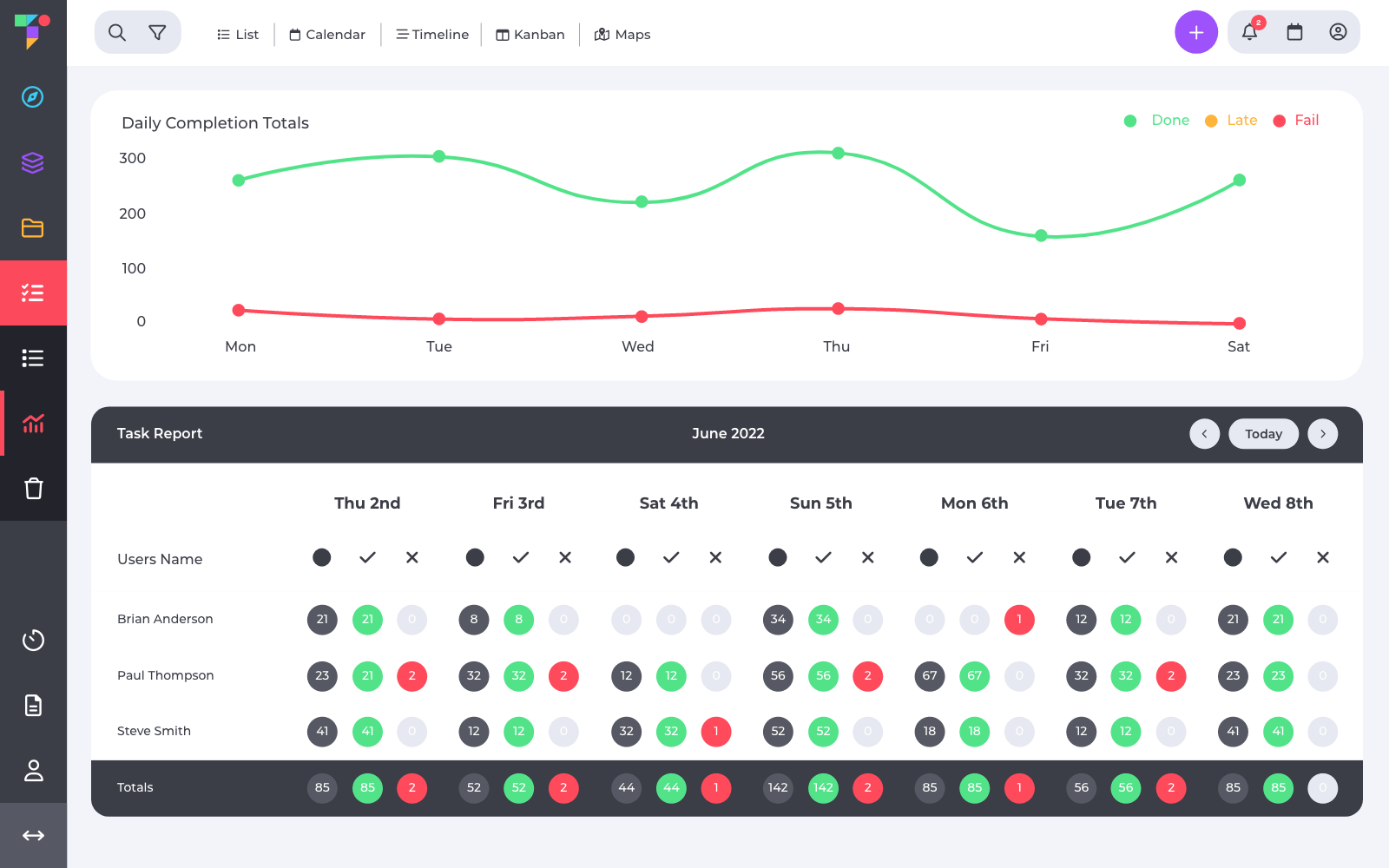 It's now easier than ever to follow the results of your work. See how much is being completed on each day, where you are achieving the plans and where you are missing targets or need to improve.
We hope you enjoy these new features. If you have any feedback, get in touch with a team member, or complete the survey you will see within the app shortly.
All the best,
The Taskbox Team
For Latest News & Update
Get updates on new articles!
We will keep you up to date with new articles released.
Don't worry we won't send you spam or share your details
Let's Try! Get Free Support
Start Your 14-Day Free Trial
We can help you to create your dream website for better business revenue.
Free 14-day trial

No credit card required

Support 24/7

Cancel anytime